In this installment, I'm "swimming with the sharks".. to find you best mlm leads click traffic available for your home business, direct sales business or mlm business.
How to Find the Best MLM Leads Traffic
Anyone could do what I do to find the best mlm leads traffic.
All you have to do is connect with any one of 1,000s of publishers that exist in the world. Tell them how much you're willing to spend for a click of traffic. Then put your money down in advance.
Most publishers want to test in amounts of $5,000 to $10,000. Expect to pay that up front.
There are no guarantees when it comes to traffic testing.
If the traffic works for you, great! They want to keep sending it to you 24/7 without interruption so be prepared to take down 1,000s of clicks of traffic daily.
If it doesn't work out, oh well. You're short $10,000.
But hey, you're wiser, right?
We Do MLM Traffic Differently
At MLMLeads.com, we vet out all our traffic sources on our own money; not yours.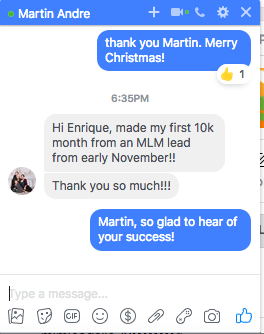 We may spend $10,000 just to test a traffic publisher. We send that traffic to our own lead capture page for testing. We check the traffic optin rate at our lead capture page. We then check it for backend sales. If the traffic is equal to or better than our current live traffic, then we add the new publisher source to our live traffic rotator for all our customers to receive. And we keep the publisher there in live rotation indefinitely.
Many of our trusted publishing sources have been sending traffic to us continuously for nearly 8 years!
However, if the test traffic doesn't convert for us, then we're the ones out of luck and out of money; not you.
Quality, Responsive Bizop Traffic
Rest assured that when you purchase traffic from MLMLeads.com, you're purchasing high quality, responsive bizop traffic of people that want to make money from home. But don't take my word for it.. see the Facebook messenger chat shown at above. MyAutoPilot Traffic helped him have his first $10,000 commission month working from home.
Continuously Testing Our MLM Traffic
It's not enough to test the traffic once then forget it. Instead, we test our traffic daily. We add our own lead capture page into traffic rotation daily to test the traffic. We again measure lead capture page optin rate and backend responsiveness. If ever an issue arises, we'll know right away due to our own testing and monitoring.
MyAutoPilot Traffic – Quality You Can Trust
You can purchase traffic for your home business most anywhere. There are literally 1,000s of people that are willing to line up to take your money for traffic. The challenge for you is to find that vendor that has real traffic; one that can provide the quality and responsiveness on a consistent basis.
At MLMLeads.com, we've been testing the best publishers on the internet to provide you with reliable and consistent bizop traffic that you can trust.
When you're ready to grow your business, choose MyAutoPilot Traffic by MLMLeads.com.