Want to know how to work your [tag-tec]network[/tag-tec] [tag-tec]marketing[/tag-tec] [tag-tec]leads[/tag-tec]? The following is an interview between [tag-tec]Todd[/tag-tec] [tag-tec]Falcone[/tag-tec] and [tag-tec]Enrique[/tag-tec] [tag-tec]Garibay[/tag-tec] of [tag-tec]MLMLeads.com[/tag-tec]. Listen as Todd describes what it takes to succeed working [tag-tec]business[/tag-tec] [tag-tec]opportunity[/tag-tec] [tag-tec]leads[/tag-tec] to build your business opportunity business.
The transcript of that interview is detailed below:
Hello folks… Enrique Garibay here at MLMLeads.com.
Today I have on the line [tag-tec]Master[/tag-tec] [tag-tec]Trainer[/tag-tec] Todd Falcone. Todd are you there with me please?
Right here Enrique, how are you doing?
I'm doing great today Todd. It's great to have you on the line with us today Todd.
Todd you and I met just a few weeks ago and have known each other for a number of years now. We met in Dallas, TX at a seminar there. An interesting thing about you Todd that a lot of people don't know is that you have spent literally years and years working leads on the telephone. Your [tag-tec]recruiting[/tag-tec] has been primarily in the cold market. Is that true about you Todd?
That is definitely correct. At least for the past 14 of my last 17 years have been working in the cold market. I went thru my warm market very, very quickly. And once I did, I had to start working in the cold market network marketing leads. So yes, that is a true statement.
| | |
| --- | --- |
| Listen Now | "Enrique.. I've been networking for 30 years and to be honest with you, I've never seen leads this good!!.." John Johnston, MO. |
Now… one of the companies that you used to work leads with in the past called you – and correct me if I'm wrong – "Master Trainer of the Decade". How did that title come about?
I've even forgot about that. That's funny because I have a picture on my wall with the plaque.
Yes, that's correct.
I guess I came about receiving that award because of my commitment during my tenure with that company for teaching people how to work business opportunity leads effectively. I was the one guy that was there more often and trained more frequently. I guess I was requested more by the distributor force more than anyone else to hear from about my philosophy with regards to working leads.
You say philosophy. That's interesting. I talk to folks about working leads and I rarely hear someone say "My philosophy on working mlm leads". How would you break that down for our listeners?
Well first of all, it has to do with expectations.
I think overall [tag-tec]success[/tag-tec] in network marketing begins with expectations. Often times people come in – including myself – I don't want to say overly high expectations but higher expectations than what was being delivered upon or allowed myself to deliver in terms of results.
I came in thinking I was going to be making $10,000 a month in a few months and I wasn't even close to that. So when I began to work my leads, it was funny – I spent a concentrated 11 years working leads. Probably over 90% of all the people that I enrolled into my businesses during that period of time were directly from leads. And I had to adopt a certain philosophy to obtain results.
The first time I started dialing leads I figured that everyone that responded was going to want to talk to me and signup. And so I ended up hovering over my network marketing leads and hanging onto them. I was chasing a lot of people without a lot of results. And I really began to understand the importance of using my ears to pay attention to what I have on the phone as a prospect. And using some of my gut and my intuition to determine whether or not to continue on the phone with them or move on. I really began to understand the true principles behind sorting through people rather than hovering over them and hanging onto them hoping that they would join my business.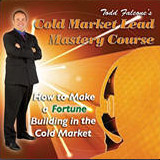 By Todd Falcone… If you've ever been afraid of the phone, nervous about calling mlm leads, or wondered whether it was possible to make a fortune working leads alone, this course answers all of those questions in a heartbeat.
In this course, you'll discover…
Which goals are most important when it comes to working leads
Which scripts produce the best results
How to get your team to become script independent
Script roll playing
How to master the 3-way call
Tips for closing business
Tips for productive follow up
How to create tracking systems to produce more reliable results
How to create a productive work environment
How and why to create budgets
Contents: 8 Audio CD's, plus downloadable workbook. Price includes shipping/handling.
If you want to learn how to work leads, then learn from someone who has worked tens of thousands of them. This class comes from years of real world in-the-field experience. Click here to get your copy today!
Recognized as the "Trainer of the Decade" by his former company, Todd has been a popular trainer for years. Listen-in as Todd candidly shares his secrets of working cold market leads over the phone from home.
This is a limited time offer. I don't know how long this price will last but it's available for as long as you see this page. Don't delay. Click here while its still on your mind.
---
Thanks for reading today. Click here to read Part 2 of the interview transcript.
WEBSITE: http://www.mlmleads.com
KEYWORDS: mlm lead, network marketing leads, business opportunity seeker lead