Want to know how to work your [tag-tec]network[/tag-tec] [tag-tec]marketing[/tag-tec] [tag-tec]leads[/tag-tec]? The following is an interview between Todd Falcone and [tag-tec]Enrique[/tag-tec] [tag-tec]Garibay[/tag-tec] of [tag-tec]MLMLeads.com[/tag-tec]. Listen as Todd describes what it takes to [tag-tec]succeed[/tag-tec] working [tag-tec]business[/tag-tec] [tag-tec]opportunity[/tag-tec] [tag-tec]leads[/tag-tec] to build your [tag-tec]business[/tag-tec] [tag-tec]opportunity[/tag-tec] [tag-tec]business[/tag-tec].
The transcript of that interview is detailed below:
Todd that was a great comment you made there about sorting. I feel that a lot of times my customers are prepared to pitch their company, products or services. I sense Todd, that's not how you operate. Is that true Todd?
Pitching… It's not like I've never used the term "pitch". Obviously that's kind of a standard term we use for presenting information.
Really what I'm looking to do is to get on the phone with someone and quickly identify by using my ears whether or not this is a person that A) truly is looking for a way to make money from home and B) whether this is the type of person I'm looking for.
So it's not about me. It's not about me trying to pitch everyone I get on the telephone. It's more about me qualifying an individual for my time.
Before, I just used to talk to everybody and everybody that would hear me out. That just didn't prove to be effective. So thereafter I had to change my attitude towards who I would invest my time towards me being in control. And that is essentially is the case in any aspect of recruiting in network marketing. It's the person that is recruiting – the person that initiated the phone call – that needs to maintain control of the conversation at all times in the process.
| | |
| --- | --- |
| Listen Now | "Enrique.. I've been networking for 30 years and to be honest with you, I've never seen leads this good!!.." John Johnston, MO. |
I suspect Todd that through your education over the years that you're probably spending less time with more people and having greater sponsoring results. Is that really what's happened for you?
That's absolutely what's happened. It's funny that people look at me and think "Oh, I could never do what this guy does…" or "He must never get No's… he's so polished…" You know, it's not about that. It's really about me simply listening and paying attention to what's going on in the conversation. And it's about moving through prospects.
Working network marketing leads is a sorting business.
I use my ears. Does this person sound like the kind of person I want in my business. Do they have some energy? Do they have something going on? Are they really saying "Yes, I'm looking?" And once I can identify those few things, then I'll spend a little bit of time with that person. And then if they don't have some of the basic things that I'm looking for, then I'll just move onto the next lead. I'll put a black through their name and move on. That's fine.
Too many people get too caught up on "I gotta take these 100 business opportunity leads… I gotta make sure I ring them dry… I gotta make sure I can get all I can out of them and hang out with them."
That's not the case with me. If I go through 100 mlm leads, I'm looking at about 20 to 25 conversations out of 100 that are legitimate good conversations. The other 80 I could care less about. Most people think about the 80 leads instead.
Forget about the 80 leads. You're only looking for the small percentage of people that are going to do it anyhow.
If you understand how to work through and sort through people, you're not going to worry about the 80.
Why?
Because you're going to find so much business in the 20 that it's not going to even matter.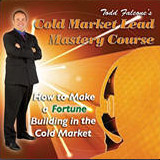 By Todd Falcone… If you've ever been afraid of the phone, nervous about calling leads, or wondered whether it was possible to make a fortune working leads alone, this course answers all of those questions in a heartbeat.
In this course, you'll discover…
Which goals are most important when it comes to working leads
Which scripts produce the best results
How to get your team to become script independent
Script roll playing
How to master the 3-way call
Tips for closing business
Tips for productive follow up
How to create tracking systems to produce more reliable results
How to create a productive work environment
How and why to create budgets
Contents: 8 Audio CD's, plus downloadable workbook. Price includes shipping/handling.
If you want to learn how to work leads, then learn from someone who has worked tens of thousands of them. This class comes from years of real world in-the-field experience. Click here to get your copy today!
Recognized as the "Leader of the Decade" by his former company, Todd has been a popular trainer for years. Listen-in as Todd candidly shares his secrets of working cold market leads over the phone from home.
This is a limited time offer. I don't know how long this price will last but it's available for as long as you see this page. Don't delay. Click here while its still on your mind.
---
Thanks for reading today. Check back tomorrow for Part 3 of the interview transcript where we talk about working your network marketing leads to build your business opportunity.
WEBSITE: http://www.mlmleads.com
KEYWORDS: mlm lead, network marketing leads, business opportunity seeker lead