Want to know how to work your network marketing leads successfully to build your business? If so, listen to Part 6 of the interview between [tag-tec]Todd[/tag-tec] [tag-tec]Falcone[/tag-tec] and [tag-tec]Enrique[/tag-tec] [tag-tec]Garibay[/tag-tec] of [tag-tec]MLMLeads.com[/tag-tec].
The transcript of that interview is detailed below:
Let's say I have a customer that is having successful interviews and conversations with their network marketing prospects… what they're find is that after their initial interview, they're getting the "forever maybe's". They're getting voicemail tag. They're not converting their business opportunity leads like they would like to… not getting the conversion rates that they'd like to see. How can you help a person like that? Do you have a product that can help a person like that?
Well… I've never had that happen!
I'm kidding.
In all seriousness… that is part of the game. In fact, there is a product that addresses that.
There are 4 main problem areas that people have that I see in mlm lead prospecting. They are:
* Rapport building and connecting
* Following-up
* Overcoming objections, and
* Closing
| | |
| --- | --- |
| Listen Now | "Enrique.. I've been networking for 30 years and to be honest with you, I've never seen leads this good!!.." John Johnston, MO. |
I have a course called "What Matters Most" and it covers those 4 areas. And those are problems that everyone has. You can lose prospects on the follow-up when they go into the prospect protection program where you can never talk to them again.
You also need to understand that actions speak louder than words. It's pretty clear when someone is not showing up for follow-up appointments that they're not the right prospect and it's time to move on. It's time to find someone else who will show up.
Or perhaps the distributor wasn't putting the prospect through a stringent enough interview initially.
Yes, that's certainly part of it as well. Maybe they didn't do enough qualifying on the front end.
There are also some follow-up techniques that you can put into play that will increase the amount of people that do show up on the follow-up. There are techniques that you can use to ensure that more people do show up for that second call.
Again, that product is called "What Matters Most".
Ok folks, check it out. You're going to be hearing a lot of Todd Falcone, I guarantee it.
As I mentioned earlier, Todd is "Trainer of the Decade" and there's a reason for that. Todd has worked with thousands of distributors from all around the world – not only with his info products, but also helping people in his downline but helping others build their business as well.
You're going to be hearing more of Todd Falcone. Todd and I will be doing more interviews soon and we'll put that into the DeskPing Newsletter.
Meanwhile if you have more interest in his training – and I know you do – go to his products listed on the site. They include:
Cold Market Lead Mastery Course
The Championship Prospecting Series: Round 1
How to Win in the Game of Prospecting
If you have any questions on these products, please phone me directly at (785) 539-6904.
Todd I appreciate your time today. We're going to do some more interviews and we're going to help a lot of people along the way while we help build lifestyles. Todd, thank you for your time today.
Thank you, Enrique.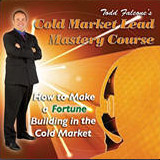 By Todd Falcone… If you've ever been afraid of the phone, nervous about calling your network marketing leads for your business opportunity, or wondered whether it was possible to make a fortune working mlm leads alone, this course answers all of those questions in a heartbeat.
In this course, you'll discover…
Which goals are most important when it comes to working leads
Which scripts produce the best results
How to get your team to become script independent
Script roll playing
How to master the 3-way call
Tips for closing business
Tips for productive follow up
How to create tracking systems to produce more reliable results
How to create a productive work environment
How and why to create budgets
Contents: 8 Audio CD's, plus downloadable workbook. Price includes shipping/handling.
If you want to learn how to work leads, then learn from someone who has worked tens of thousands of them. This class comes from years of real world in-the-field experience. Click here to get your copy today!
Recognized as the "Leader of the Decade" by his former company, Todd has been a popular trainer for years. Listen-in as Todd candidly shares his secrets of working cold market leads over the phone from home.
This is a limited time offer. I don't know how long this price will last but it's available for as long as you see this page. Don't delay. Click here while its still on your mind.
---
And now you have a real idea of what it takes to succeed working your network marketing leads for your business opportunity.
WEBSITE: http://www.mlmleads.com
KEYWORDS: mlm lead, network marketing leads, business opportunity seeker lead