This article describes how to work your network marketing leads to make money in your business opportunity. Listen to Part 5 of the interview between [tag-tec]Todd[/tag-tec] [tag-tec]Falcone[/tag-tec] and [tag-tec]Enrique[/tag-tec] [tag-tec]Garibay[/tag-tec] of [tag-tec]MLMLeads.com[/tag-tec]. Todd describes what it takes to succeed working business opportunity leads to build your business opportunity business.
The transcript of that interview is detailed below:
Todd it was interesting that when I heard you speak in Dallas, you were describing your anxieties early on when picking up the telephone to prospect your leads. You talked about how heavy the phone was and how sweat would pour down your face when picking up the phone. I know that I have a lot of my customers like that.
What are some of the things that you've been able to do to help people like this? What resources do you have available to help a person like that so they don't have spend their time "planning" to get into action?
There are a few products that I have in particular. I have one product called "How to Win in the Game of Prospecting". That outlines 5 specific components that I go over. That was the first product that I produced. That was from me looking back at my 16 years of experience in the field and figuring how I went from the sweaty nervous wreck to where I am today with the level of confidence and skills that I have… and how did I acquire them.
In that particular course I go through 5 major components that you can look at and review that will give you something to work on in terms of improving your overall prospecting skills in a general sense. It doesn't matter if you're new or you're mediocre and you're looking to take your mlm lead prospecting skills to the next level.
Even if you are skilled… you can look back and see that if you have a weakness on one of the 5 components, that you can improve your overall prospecting skills.
| | |
| --- | --- |
| Listen Now | "Enrique.. I've been networking for 30 years and to be honest with you, I've never seen leads this good!!.." John Johnston, MO. |
During the 11 year period of time when I was building my business working network marketing leads, I ended up producing a product call the "Cold Market Lead Mastery Course". It really is 11 years of my experience packed into 8 CDs and downloadable resource guide. And that is about everything that I can possibly shell out about working business opportunity leads. So anyone purchasing leads or generating leads on their own – that's exactly what that course is all about. It is to help people understand:
· what sorts of things they need to have in their office
· how to track
· how to be organized
· what kind of tools do you need to have
· how to operate your business properly and effectively
· what to say and how to sort
· how to posture
· what to look for
· what to listen for
I go through the whole routine of calling mlm leads. It's a very complete training package for anyone that is looking to obtain better results working business opportunity leads specifically.
There is another product that I back that up with. It's called "The Championship Prospecting Series: Round 1". That program is really me just demonstrating all the things that I've talked about. It is 10 CDs of me dialing mlm leads live. So you can hear me and model after me. I give explanations between calls. If I blew out a prospect – why did I do that? Or if I hung onto a prospect and talked to them, what was the reasoning and rationale behind that. I actually give explanations right after the calls.
You break it down right then and there?
Yes. It's pretty interesting. I get a lot of good and positive comments about that course.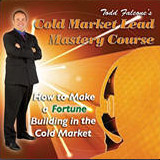 By Todd Falcone… If you've ever been afraid of the phone, nervous about calling netowrk marketing leads, or wondered whether it was possible to make a fortune working leads alone, this course answers all of those questions in a heartbeat.
In this course, you'll discover…
Which goals are most important when it comes to working leads
Which scripts produce the best results
How to get your team to become script independent
Script roll playing
How to master the 3-way call
Tips for closing business
Tips for productive follow up
How to create tracking systems to produce more reliable results
How to create a productive work environment
How and why to create budgets
Contents: 8 Audio CD's, plus downloadable workbook. Price includes shipping/handling.
If you want to learn how to work leads, then learn from someone who has worked tens of thousands of them. This class comes from years of real world in-the-field experience. Click here to get your copy today!
Recognized as the "Leader of the Decade" by his former company, Todd has been a popular trainer for years. Listen-in as Todd candidly shares his secrets of working cold market leads over the phone from home.
This is a limited time offer. I don't know how long this price will last but it's available for as long as you see this page. Don't delay. Click here while its still on your mind.
---
Thanks for reading today. Check back tomorrow for the final Part 6 of the interview transcript. Listen and learnwhat it takes to succeed working your business opportunity leads for your network marketing business.
WEBSITE: http://www.mlmleads.com
KEYWORDS: mlm lead, network marketing leads, business opportunity seeker lead