This article describes what it takes to work your network marketing leads to build your business opportunity business. This is an interview between [tag-tec]Todd[/tag-tec] [tag-tec]Falcone[/tag-tec] and [tag-tec]Enrique[/tag-tec] [tag-tec]Garibay[/tag-tec] of [tag-tec]MLMLeads.com[/tag-tec].
The transcript of that interview is detailed below:
It is fair to say Todd that if you had a set of 15 [tag-tec]network[/tag-tec] [tag-tec]marketing[/tag-tec] [tag-tec]leads[/tag-tec] on your desk for the month versus 2,000 [tag-tec]business[/tag-tec] [tag-tec]opportunity[/tag-tec] leads on your desk for the month, that your posture is going to be a bit different when prospecting those leads. Is that a true statement?
Well first of all if I only had 15 [tag-tec]mlm[/tag-tec] leads on my desk for the month, I'd take the entire month off after I worked for an hour. I sort through people very quickly.
My attitude will never change whether I had 1,000 leads on my desk versus 15 business opportunity leads.
Now if I only had 15 leads on my desk and I was an amateur, I might hold onto the leads and cuddle… try to convince the 15 prospects to join my business.
That's not how this business is.
It's a sifting and sorting business. We move through people quickly until we identify someone that connect with and really want to work with. Then we take the time to connect with that person and get our information to them.
So I don't know that my posture would change other than I'd be on vacation for the rest of the month. So you need more network marketing leads, for sure.
| | |
| --- | --- |
| Listen Now | "Enrique.. I've been networking for 30 years and to be honest with you, I've never seen leads this good!!.." John Johnston, MO. |
Todd it was interesting that when I heard you speak in Dallas, you were describing your anxieties early on when picking up the telephone to prospect your leads. You talked about how heavy the phone was and how sweat would pour down your face when picking up the phone. I know that I have a lot of my customers like that.
What are some of the things that you've been able to do to help people like this? What resources do you have available to help a person like that so they don't have spend their time "planning" to get into action?
Well obviously you were listening to me when I was speaking. Yes when I was in my first network marketing opportunity, I was a sweaty nervous wreck. I was stuttering on the phone, sweating… dry mouth and scared.
But the thing for me was that I wanted to make money in my business opportunity. I knew very early on that the only way I was going to make that money was that I was going to have to talk to people. So I had to talk to people through my fear.
I put myself out there.
I think that first of all, people need to get out into the market place and get into the game. They need to be in the field talking to people. Regardless of how they feel and how nervous they are, you just have to get through the fear by facing fear itself one day at a time. That's essentially what I did. It wasn't real comfortable at first but over time it became more comfortable.
In terms of what I provide people today, I have a real big passion for teaching people how to do this – how to work their network marketing leads and build a business from home.
2 ½ years ago I began speaking as a trainer for different network marketing companies. I travel almost every week now. The resources that I provide really come from a network marketing field perspective. I've never owned a network marketing company. I've never worked for one. I've always been a MLM distributor. So the perspective that I have is something that other distributors can relate to. It's something that I did and have done for many, many years.
When you hear me and hear some of the training I do you'll say "Wow, this guy did build a network marketing business." I've built several companies where I reached the top of the comp plan.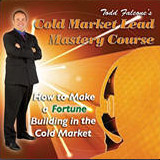 By Todd Falcone… If you've ever been afraid of the phone, nervous about calling your network marketing leads, or wondered whether it was possible to make a fortune working leads alone, this course answers all of those questions in a heartbeat.
In this course, you'll discover…
Which goals are most important when it comes to working leads
Which scripts produce the best results
How to get your team to become script independent
Script roll playing
How to master the 3-way call
Tips for closing business
Tips for productive follow up
How to create tracking systems to produce more reliable results
How to create a productive work environment
How and why to create budgets
Contents: 8 Audio CD's, plus downloadable workbook. Price includes shipping/handling.
If you want to learn how to work leads, then learn from someone who has worked tens of thousands of them. This class comes from years of real world in-the-field experience. Click here to get your copy today!
Recognized as the "Leader of the Decade" by his former company, Todd has been a popular trainer for years. Listen-in as Todd candidly shares his secrets of working cold market leads over the phone from home.
This is a limited time offer. I don't know how long this price will last but it's available for as long as you see this page. Don't delay. Click here while its still on your mind.
---
Thanks for reading today. Check back tomorrow for Part 5 of the interview transcript. Todd will tell you more about what it takes to succeed working your business opportunity leads for your network marketing business.
WEBSITE: http://www.mlmleads.com
KEYWORDS: mlm lead, network marketing leads, business opportunity seeker lead