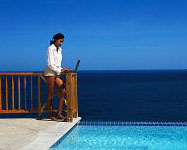 This describes mlm leads and how to give mlm business presentations that sell.
I'm going to be right up front with you.. the information I'm about to share with you is stolen information. I stole it from my good friend Tom "Big Al" Schreiter of FortuneNow.com. Here goes:
What is the perfect length of your mlm business opportunity presentation?
Walk up to a prospect and say:
"I can give you a long presentation or a short presentation. Which one would you prefer?"
Call a prospect and say:
"I can give you a long presentation or a short presentation. Which one would you prefer?"
The answer is obvious. Short.
Prospects are super busy with family, jobs, e-mail and cable television. They want to know these things right away:
1. What kind of business are you in?
2. How much money can I make?
3. What do I have to do to earn that money?
If you can answer those questions quickly, you will keep your prospect interested. That's what I call a "One-Minute Presentation."
Is that the only way to do a short presentation? Of course not. You could learn to do "The Two-Minute Story" or even the "17-Second Presentation", but starting with the "One-Minute Presentation" is usually an easier first step.
Try putting your "One-Minute Presentation" together now and have it ready for your next prospect. Your prospect will love it, and you'll be building your business with ease.
====
I hope Big Al's lesson above resonates with you. You can give the mlm leads prospects all kinds of information – and we want to – but often times prospects just want you to get to the point. If the prospect isn't interested after a 1-minute presentation about your business, a 5 or 10-minute presentation isn't going to change their mind.
And you can give too much information. Unfortunately all that seems to do is create "analysis paralysis".
As you craft your phone script for our Call Center Dial Service, keep these points in mind also. It's real easy to go on and on about our companies when putting together phone scripts. But try to focus on what's important to your prospect.. what kind of business is it… how much money can your prospect make.. what does your prospect have to do to earn that money.
When you can give this information in a concise manner, you can prospect most anyone anywhere.
When it comes to prospecting new mlm leads for your business, please keep us in mind.
We have Call center Dial Services where we call your mlm leads for you. We have web traffic that send business opportunity seekers to your mlm lead capture page. And we have real-time mlm leads that show up in your email inbox immediately after they're generated.
To your success,
Enrique Garibay