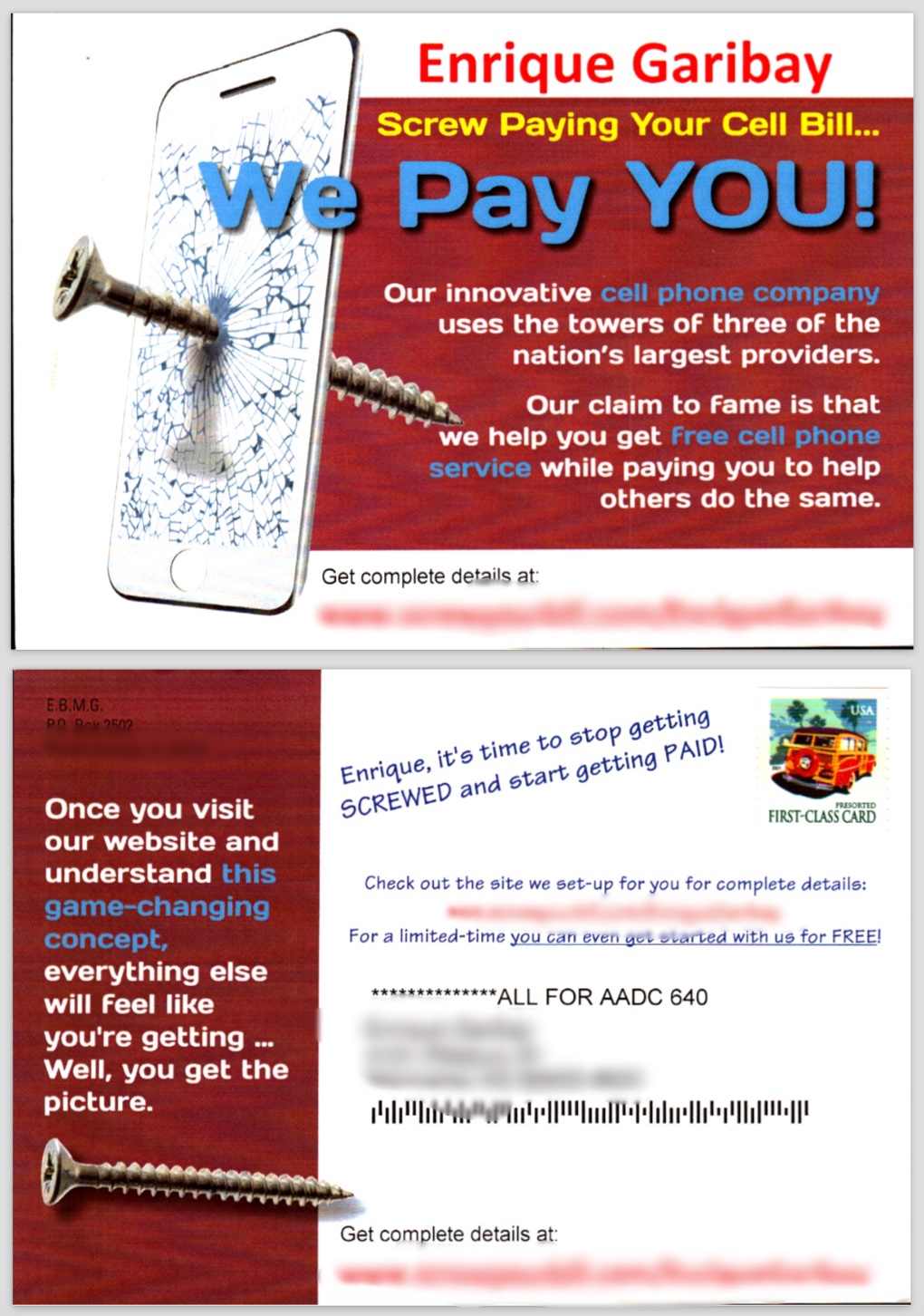 This mlm leads training article we describe postcard marketing to create mlm leads for your network marketing business.
Today I'm going to show you a recent postcard that was delivered in the mail. You can take a look at it at right.
I'm writing about this postcard for a couple of reasons:
#1) Direct mail marketing can work for you, if you know what you're doing.
There isn't much competition for the US Postal mailbox these days. It's almost a novelty when you receive something in the mail that has been personalized to you.
In the past, I've written a few blog articles about how well postcard marketing can work. The key to success is your ability to craft a good post card. You need compelling ad copy and graphics. If you're uncertain what to say in the card, or what the card should look like, consider hiring a professional on eLance or oDesk.
#2) Postcard marketing creates inbound leads.
Inbound leads are always the best type of leads. Inbound leads are people that are chasing you to learn more about your business; not you chasing them.
Typically the postcard ad copy will drive the prospect to your lead capture page. There the prospect can review your offer and complete your webform to learn more. Once they optin, your lead capture page can immediately redirect them to an online business presentation. At the same time, the lead capture page system sends you the lead so that you can personally follow-up.
What I like most about this type of marketing is that the prospect has already been exposed to your business presentation even before you get back with them. That really helps to shorten the whole prospecting timeline. It helps you get a "yes" or "no" decision sooner than later.
If you're going to use postcard marketing, the best type of lead for that is the Real-Time National lead. That's what Gene used when he did his postcard mailing campaign that I wrote about earlier.
Of course, postcards are just one way to drive traffic to a lead capture page. Probably the easiest way to drive traffic is with MyAutoPilot Traffic.
Using MyAutoPilot Traffic, you simply give us your lead capture page URL while placing the order, then you're done. We then start driving traffic to your lead capture page on a per visitor or per click basis.
Whether you're using postcards or purchasing web traffic, it's always a good idea to have multiple ads sources running simultaneously. That way you have a steady stream of inbound leads that want to know more about your business.
And the best part about inbound leads is that it's "rejection free" prospecting!
Thanks for reading.
To your success,